The Rs 1 Crore Target in 10 Years -Part 1
₹ 1 Crore (INR 10 million), happens to the one-liner in many of the financial services website. It is often stated as the target to achieve or an amount to set aside. Be it insurance sum assured or retirement or the innocuous question "I want to have one crore in the next 10 years, so what should I do?"
We should understand that the number Crore in India triggers certain brainwaves – this is the millionaires equivalent in Today's world. Just as a product of ₹ 999 makes more sense than a ₹1000 when it comes to buying, it is opposite when getting that amount of money. To the uninitiated, ₹ 90 lakh does not sound that attractive as ₹ 1 crore.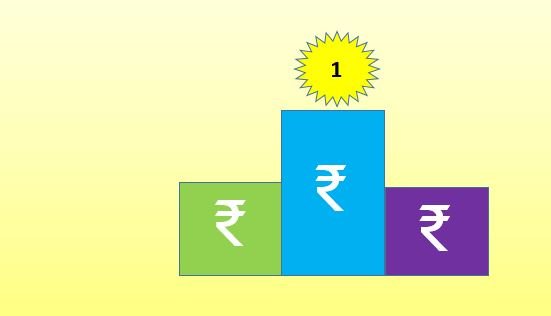 The use of crore, lakh, million, billion all play in the hands of the sales agent and all financial services. But perhaps the intention is not  bad. Often, the question "I want to have one crore in the next 10 years, so what should I do?"  is posted as an example to let the customer know how much the customer save in order to make a corpus of a Crore in 10 years, ie defining a goal – what and when.
Unfortunately, many (esp commission based agents) have taken this rather harmless statement and made it the goal to an unsuspecting customer. The customer is then stuck with a product, however useful, but perhaps with a value which does not match the requirement and purpose of the customer
In order to ensure better financial planning, it is important that the customer pays attention to what her/his needs are. If someone is earning ₹ 15,000 a month, a ₹ 1 Crore will be a dream or maybe a stretched target. To someone earning ₹ 1,00,000 a month, a ₹ 1 Crore may be inadequate. To calculate retirement corpus, insurance, child plans, all these may appear simple and easy. People take a gut feeling, however, all plans can be planned better by understanding – income, expenses and inflation. While a SEBI Registered Investment Advisor can help you collect, define and plan your financial goals, we shall take a few pointers on how you can check the amount you need by playing around with spreadsheets
Note: It is always best to take the help of a fee based SEBI RIA. Why – because instead of selling a product for commission, the SEBI RIA gives you advise that fits your requirement.
The Author, Krishna Rath, is the founder of Finvestor.in, a place for financial investors to get their answers on what and where to invest. Krishna is an MBA from IIM, ALMI from LOMA and is a SEBI Registered Investment Advisor. He was worked with several financial firms in building critical information systems and now has taken up the challenge to build systems around financial planning for investors.