Fee or Free: Financial Advice
finvestor.in connects fee based SEBI Registered Investment Advisors. Why do we list fee based Advisors (RIA) and not the friendly agents who sell products for free? Here are the reasons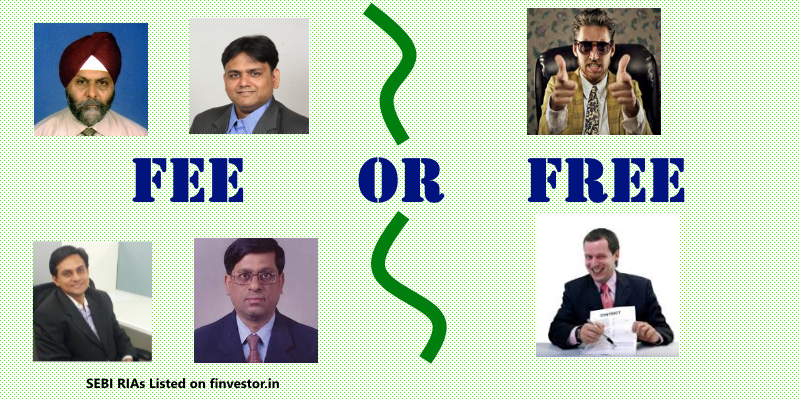 Regulation: As per SEBI Investment Advisory Regulation (IA) 2013, only a SEBI Registered Investment Advisor can provide Investment Advice. The enrollment process for SEBI RIA is a strict one, which includes several checks of relevant education in business and management. The criteria for getting the RIA tag also takes into account the experience in financial services industry. Regulation of the financial advisory industry means that no tom-dick-harry can now claim to be an expert on giving financial advice. By taking only registered advisors, finvestor.in bring in the best of financial advisory to you.The corner store agent, selling financial products for commissions, isn't the right comparative. The store agent selling policies or bank agents nagging you for policies are mere commission agents. They sell policies for commissions, and that's it.
Education and background. Take the background of the people listed on finvestor.in – they have several years of experience in the financial industry. With experience comes wisdom. Many of them have written books and articles for CNBC TV18, The Hindu Business-line, ET NOW, Business Standard, and The Economic Times. – You name the media, they are featured in that.Your Bank agent may not have the right education credentials. An online exam from some random website may not elevate the person's financial knowledge. Oh, and they watch and read SEBI RIA articles and pretend to be experts! Just because a compounder in a hospital knows a few medical terms does not make him a doctor. For a hospital to function, both doctors and compounders must co-exist – and in financial services, RIAs and agents will exist – it all depends from whom you want to take advice
Adherence to Compliance / Customer Privacy. A Contract with a SEBI RIA will ensure several key compliances, including KYC (know your customer) details. Additionally, the SEBI RIA is also responsible for keeping the customer's financial data confidential. SEBI conducts random checks on the RIA office to ensure that compliance is being followed.When it comes to the agent shop, the moment you submit your bank details, it is often sold to third party vendors. So now, you get to know why you get "free" service.
Solution approach – RIAs don't sell products. SEBI RIA don't sell specific products. The task of an RIA goes beyond selling a product. The RIA determines the insurance you need, suggests optimum expense ratio, uses complex financial calculations to determine your retirement corpus. Health insurance policy and its sales process is a good example. A SEBI RIA will determine how much insurance is needed, based on the cost of living, family type and age.
Advertisement

Whereas, a sales agent would sell a health insurance policy of say Rs 9Lakh or less. Why? Because, anything beyond 9 Lakhs may need medical checkup. Most agents sell a policy of Rs 9 Lakh and run away with a commission amount. Since you may purchase a policy without going through all the details, you may be denied a claim later. Remember in health insurance, it is never the company that is at fault, it is the sales process which is at fault, where you are sold a policy saying that "it is okay that you don't write about previous illness".
Holistic Approach. RIAs have the mandate from SEBI to suggest on all financial products –Insurance, Mutual Funds, Retirement funds, Tax planning. When you approach a SEBI RIA listed on finvestor.in, you get a 360 degree (or complete) financial profiling. Hence, you investments will be tied up to your insurance, your allocation of equities will be relevant to your overall assets.Your corner store friendly agent may have a license to sell a particular product. Hence, they will never be bothered about your overall financial well being. If the target for a bank relationship manager is to sell 5 mutual funds, then they will sell only that and will be least bothered about the amount and its relevance to your Insurance, real estate or retirement.
Nothing is free. We all wish for everything to be free, except when we work for someone, we ask for salaries! When the corner store agents does free advice, there is a motive behind – sale of a particular product, even if it does not fit your financial needs. When a bank agent or relationship manager provides advice, there is a motive – sale of products. Have you ever seen a bank relationship manager say "You need 1 Crore insurance based on your family, expenses and financial goals.". It is always "Madam/Sir, we have an excellent policy from XYX Insurance and we believe you need 75 Lakh Insurance".
So, can we be ever commission free? We can only try to reduce the expenses. The AMC from where you buy the policy will charge a maintenance fee. You can completely avoid the agent/broker dealer route and save a lot more by directly buying mutual funds from AMC, Insurance from company. The difference between taking fee based advice and then buying directly from companies may appear insignificant, but there is an important difference. The difference is between you buy what you need (RIA Advice) and get what you don't need (unqualified advice).
The Author, Krishna Rath, is the founder of  finvestor.in a place for financial investors to get their answers on what and where to invest. An avid technologist, Krishna is an MBA from IIM, ALMI from LOMA and is a SEBI Registered Investment Advisor (RIA). He was worked with several financial firms in building critical information systems and now has taken up the challenge to build systems around financial planning for investors.