Let us encourage social security!
We always hear of social security system in the western countries and lack of it in our country. But the new central government's initiative on financial inclusion has now made it possible for each one of us to enable the simple earners e.g drivers, maids at our homes and many others belonging the poorer sections of the society around us to lead better lives.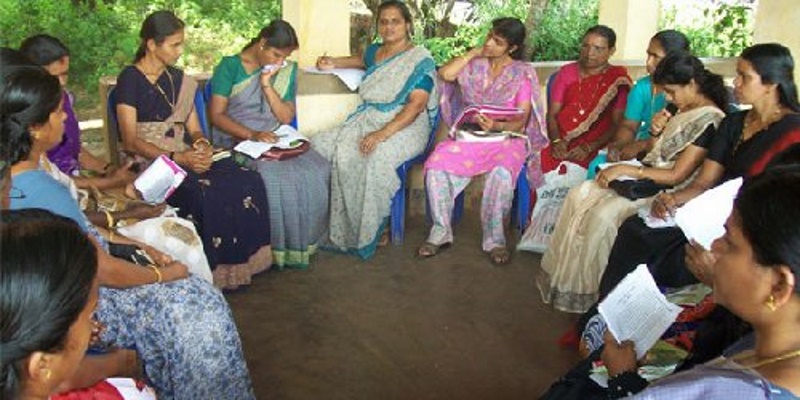 What can we do?
Opening of a Bank account
Many have already a Bank Account under Jan Dhan Yojana. If not opened yet, prod them to open one. This is a zero balance account that can be opened with an Aadhar card. Voter ID, driving license and ration card etc that provides proof of identity and address. There is no need to ask for a cheque book which requires a minimum balance. You can guide them to move up in the technology ladder and help them use ATM debit card to transact. Instead of paying by cash you can credit their monthly dues into their bank accounts, by setting up an electronic transfer.
 Life Insurance Policy  (Jeevan Jyoti Bima Yojana) 
Once they have a bank account, they can buy a life insurance cover of Rs2 lakhs by paying an amount of Rs330/- per year. If  they can not pay it, you may gift them the amount or adjust it from their dues. Earlier Life cover was not available unless income proof was there. Now anyone between 18 to 50 years can buy the policy. In case of untimely demise, the amount of Rs2 lakhs claim can help the family to meet funeral & other expenses and prevent them going to money lenders or borrowing at higher interest.
Accident Insurance Policy(Suraksha Bima Yojana)
They can also buy an accident cover where Rs 2 lakh will be paid for accidental death or permanent disability from accident  by paying an annual one-time premium of Rs12/-.
 Annual Renewal
These policies work one year at a time. The product is designed for simple implementation. A single premium of Rs 330 + Rs 12 has to be paid by electronic transfer from a designated bank account before 31 May every year. You can guide by setting up this up as an auto debit facility from the Jan Dhan bank account .You may fund that by setting up a transfer from your bank account also.
Pension (Atal Pension Yojana)
You may allocate a small portion of the monthly salary that you pay for subscription to the scheme.This scheme enables non-income tax paying informal sector workers to earn a fixed pension after the age of 60. Depending on the age of the person and the amount of pension desired, the monthly contribution varies. Pensions ranging from Rs 1,000 to Rs 5,000 a month can be enabled under this scheme.
Benefits
It helps in developing banking habit. None of the contributions can be made in any format other than an electronic transfer from a bank account. This means, you can now pay salaries into their bank accounts and the auto debits will keep the account active. The incentive is high due to the defined benefit that they understand easily.  The paperwork is minimal . Once the KYC is completed using the Aadhar card, there is no other procedure to follow. The bank account number will be the only one to remember, with all the products linked to it. Updates and alerts will come into a registered mobile number.
You can make financial inclusion a mission in your neighbourhood.  Ensure that your housing society's staff is covered. Instead of making a donation to a charity whose expense ratios keep you worried about how your money is utilised, you can create a giving plan that is implemented through the financial inclusion framework of the government. Identify people whom you want to help. Let us make these social security initiative a success!!!
Reproduced with permission from http://www.maxsecfp.in/component/k2/item/122-let-us-encourage-social-security
Written by SEBI Registered Investment Advsior, Mr Prakash Praharaj at http://www.maxsecfp.in/component/k2/item/122-let-us-encourage-social-security
Reproduced with permission from SEBI RIA, Mr Prakash Praharaj
Images Sourced from Google Images (c) to original creator.
About the Author
Shri Prakash Praharaj topped the university during his graduation and post graduation in Commerce and has been awarded two gold medals. By training, he is an MBA and he has been awarded a Diploma in Treasury, Investment and Risk Management besides CAIIB from the Indian Institute of Bankers. He is also a CERTIFIED FINANCIAL PLANNER CM and a Certified Personal Financial Adviser with 30 years of experience in the financial services sector under his belt, which include service at financial sector pillars like the Reserve Bank of India, United India Insurance Company, State Bank of India and SBI Life Insurance Company.
During the year 2010, he promoted Max Secure Financial Planners to provide fee-only financial planning advisory services and promote financial literacy. Today, he is a SEBI-registered Investment Adviser and helps plethora of investors to plan their financial lives and achieve their aspirations.
Mr Praharaj is listed on finvestor.in and you can ask him a query at finvestor.in