Four books for every trader's bookshelf
|
After we introduced technical trading and technical experts on my panel, we have been getting several queries on best ways to trade, best trades. Since we are a listing of SEBI Registered Investment Advisors (RIAs) and have certain restrictions, we cannot give free calls. Our RIAs listed for trading can be contacted for trade calls. All RIAs, as per SEBI directives, do a fee for service.
However, we can educate people on what books can be read by the people who are interested in trading. Remember, trading does not guarantee regular income and hence if you think you can become a millionaire by mere trading, please be realistic and jump into full time trading after fully understanding the market and dynamics. Also, trading will impact your taxation and hence your ITR returns.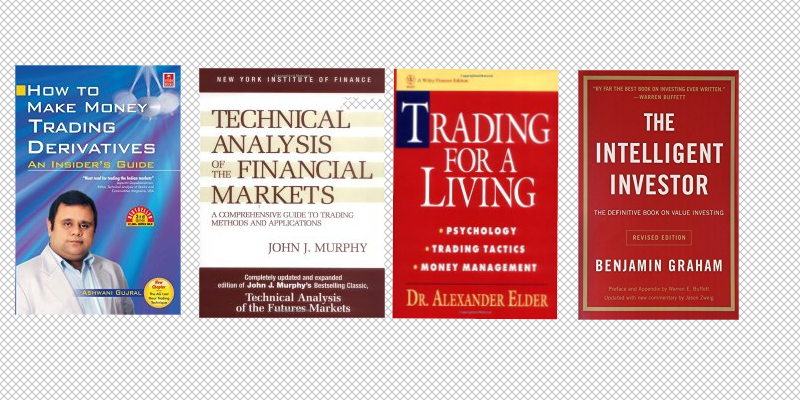 Let's have a look at the four books that traders should have.
1. How to Make Money Trading Derivatives

– Ashwani Gujral
While the bulk of the book talks about trading in Derivatives, which is very exciting part of technical trading, the book explains the basics of trading and provides a list of the essentials that a trader must know. The first few chapters are about basis of technical trading and the advice is very succinct. The part of derivatives explains the strategies that a trader must take when doing Futures and Options call. The book as with any trading book does focus on the mind and focus of the trader.
As a bonus, you may also wish to check the book by Ashwani Gujral on Charts – How to Make Money Trading with Charts
The one reason why you should have an Ashwani Gujral book is because his suggestions on media (earlier on CNBC-TV18 and presently on ET-NOW) are often backed logic and reason. Brutally honest on his recommendation, his investment calls mostly work and hence his book features here!
2. Technical Analysis of the Financial Markets: A Comprehensive Guide to Trading Methods and Applications (New York Institute of Finance)

– John J. Murphy

This book is an expensive one, however, this has a comprehensive description of all technical trading techniques. This book is for those who want to understand the history, the basics and learn everything about trading. Since the book is written by an American authour, the book references only to the US market, however, when it comes to trading, it should not matter whether the market is US or India. the technical trends and methods are universals.
3. Trading for a Living: Psychology, Trading Tactics, Money Management (Wiley Finance)
Considered to be a classic and must read for traders, Trading for a living focuses on getting the right bets. More than technical trends, the book focuses on the physological demands of a trader. And rightly so, the most important factor that a trader needs to be strong at is emotional stability. The more the trader has, the better it is. And Elder has own technical strategies explained in this book. Again, a book based out of USA and hence it may seem alien to an Indian, but remember when Elder wrote this book it was in 1990s and today India is more of less like the 90s of the US!
Don't worry about the price of the book – This book is worth all the money since this has a huge fan following in the developed world.
Advertisement

4. The Intelligent Investor
What has an "investor" book got to do with trading? Well, it is important that you pick the right stocks and play with the correct stocks. When you get bored from the daily grueling stare at your monitor screen for shorts, puts, calls etc, you will realize the value of investing! Yes, most traders mostly leave the trading world and go for something more soothing and settling like value investing. Hence, this book is a must read for those who believe can become overnight millionaires!

This is a classic book from where everyone else gets content from!
The Author, Krishna Rath, is the founder of  finvestor.in a place for financial investors to get their answers on what and where to invest. An avid technologist, Krishna is an MBA from IIM, ALMI from LOMA and is a SEBI Registered Investment Advisor (RIA). He was worked with several financial firms in building critical information systems and now has taken up the challenge to build systems around financial planning for investor.