Financial planning costs just as much as a smartphone!
|
The great Indian festival season, launched by large e-commerce sites, has given the Indian consumers a lot to cheer about and, at the same time, a lot to worry about. With discounts pouring in, that sleek smart-phone looks relatively cheap. It looks like a perfect time to buy all the listed electronics. These are indeed good times. It can be easily estimated that a consumer will spend at least Rs 50,000 this season; combine electronics, clothes, toys and that amount does not seem big. India, once had savings as a part of its culture, is now transforming to a spending culture.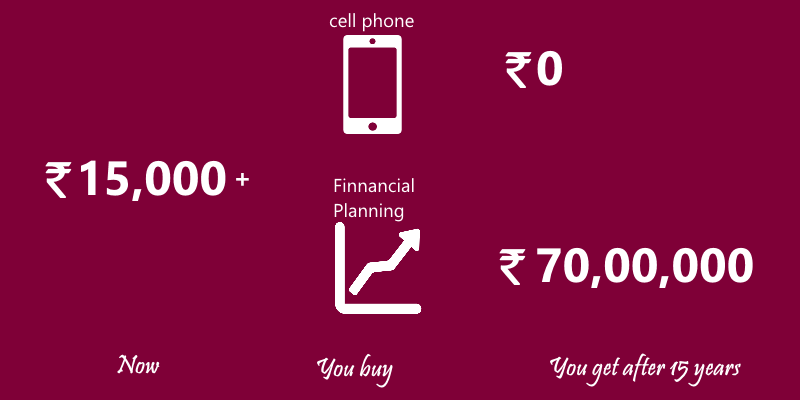 There was a time when Indians used to replace items only once in a decade or two– A Bajaj Chetek would not be replaced by a Vespa just because the Vespa came in a new colour. However, now we have the money and the opportunity to replace a 5.3 megapixel front camera phone to a 7.1 mega pixel front camera phone with a sleeker design, all this with a click of a button. People buy expensive DLSR cameras just to take photos of a crow or broken window panels only to post on social media expecting virtual likes. We are in a spending spree and we buy any electronics product, even if an upgrade was not needed. Strangely, our love for electronics products rarely takes into consideration the overall usage and also the depreciation aspect. Is it worth buying a Rs 20,000 phone for a year?
A 20,000 phone may have some utility and, perhaps, it can be used for more years, however, there has been one set of products that has been sold to thousands of Indians, and those products may have no value to the customer at all! Yes, financial products – ULIPs, poorly managed funds, ineffective health insurance plans all have been sold to Indians by the ever friendly bank relationship manager who churns out free advice. Ask anyone about savings & finances and the response is on expected lines, "I have a Rs 1000 SIP running, I have some dynamic bond funds, I have 3 ULIPs and no personal health insurance policies because I am covered by my company".
Advertisement

The problem is never with the financial product, but with the process of the sale of a product which does not fit the individual's financial track. The process has never been 'need based', and often, such products have been sold or pushed to a customer by a bank relationship manager or mis-sold by an online aggregator website. The current sales process for commission sales or volume sales creates wealth only for the sales agent or bank relationship manager. Example, if a health insurance policy that has been mis-sold with an assumption that "keeping quiet on a pre-existing disease" is safe and that after "4 years anyway you would be covered", is in fact, dangerous. Your claim can be simply denied even after the exclusion period with a reason (or an excuse) that further complications were triggered due to the pre-existing disease.  But your agent/RM has already taken a cut on your premium and would be least interested in your problems.
Another major issue has been in the amount of investments been suggested by agents and RMs. Investments into equity and mutual funds, should ideally not be restricted to a limited mind-set of Rs 1000 or Rs 5000. These are poor advices and perhaps is the worst advice ever given. The investment into equity based funds should, at least, be based on the time horizon and also the risk assumption that returns could be negative. More importantly, the investments should consider your overall income, expenses, savings and investments. Isolated investment execution into various financial instruments has resulted in wealth destruction.
The financial advisory industry in India is changing, slow to start with, though. With SEBI coming up with guidelines on investment advisors, Indian investors will have access to quality advice from well qualified and experienced advisors. These advisors are fee only. Ie they charge for the advice given and hence, are expected to provide bias-free advice. Many of them do not sell policies or products, but provide important advice and knowledge that will result in long term wealth creation. More importantly, a comprehensive plan will not advice to buy XYZ insurance plan or take a QWE personal loan. It would rather let you save, invest and also optimise your savings in such a way that your financial future would be secure. So your SIPs in mutual funds would be an amount that is best suited for you and not a generic advice like 'Rs 1000'.
And what does it cost to get advice from a qualified SEBI Registered Investment Advisor providing financial services? Just the cost of a smartphone range! Yes prices range from Rs 9,999 onwards. And just as with smart phone and the additional features, the cost for financial planning could be anything around the Rs 15,000 mark. However, unlike a smart phone that will go out of style or will depreciate in value, investing money in getting financial advice from a SEBI RIA will only help you create wealth.  So this festive season, plan your financial future by connecting with a SEBI RIA.
finvestor.in lists SEBI RIA who are experienced and have strong existing client base. Contrary to popular notion of "only rich folks needing a financial planner", SEBI RIAs serve several middle and upper middle class income group, who have taken advantage of financial planning and generated wealth. Financial advisors are not Portfolio Managers, ie will not take your savings/investments, and unlike in TV commercials, they will not come to your home for lunch!
Image:
1. A prior article http://finvestor.co.in/2015/08/17/0-discount-and-rs-1-crore/ has the example of generating an additional Rs 70 lakhs due to plans suggested by financial planner.
2. Assumptions that a user already has a smartphone, hence, there is no or negligible incremental value that the new smartphone can provide