10 key recommendations from 7th Pay Commission Report
|
The seventh Pay Commission, headed by Justice AK Mathur, submitted its report to Finance Minister Arun Jaitley. Once cleared by the Cabinet, the recommendations will lead to a significant hike in salaries of central government employees and pensioners with effect from January 1, 2016. The salary hikes are expected to boost sales of affordable homes and consumer durables, which in turn will drive demand in the economy.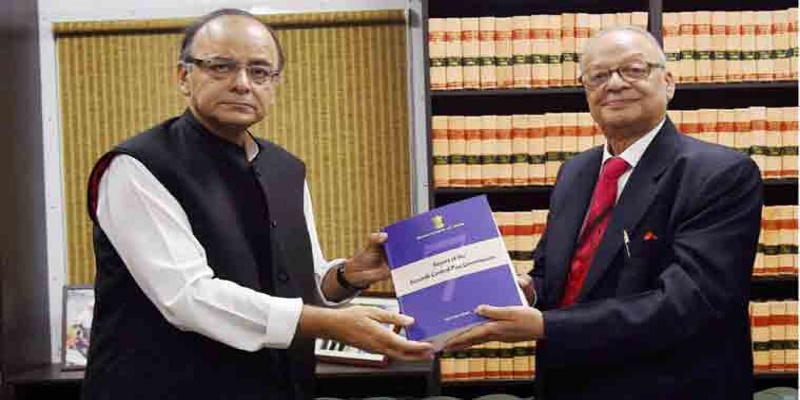 1. Salaries – Basic salaries will go up by 16 per cent, while their allowances will rise by 63 per cent. This will impact  47 lakh serving government employees. The overall hike in salaries will be 23.55 per cent. This compares with the 35 per cent salary hike central government employees got on implementation of the sixth Pay Commission in 2008. Make no mistake of the lesser percentages – The base salary is already high and hence a rise of 23.55% is significant.
2. HRA – The house rent allowance has been increased by a massive 139 per cent. So looks like there is good news for the investors in real estate!
3. Pension – Pension of 52 lakh retired employees will go up by 24 per cent.
4. The minimum salary for central government employees has been fixed at Rs 18,000 per month. The salary for employees in the "apex scale" has been capped at Rs 2.25 lakh per month. However, the salary of cabinet secretary (the highest-ranking civil servant) has been fixed at Rs 2.50 lakh per month.
5.  The seventh Pay Commission has also recommended the abolition of grade pay and pay band for central government employees. Central government employees will get an annual increment of 3 per cent.
6.  A system on the lines of One Rank One Pension (OROP) for the armed forces has also been proposed for government officials for the first time.
7. Military Service Pay (for armed forces) for service officers has been more than doubled to Rs 15,500 per month. Short service commissioned officers will be allowed to exit the armed forces at any point in time between 7 to 10 years of service. A uniform retirement age for all paramilitary forces at 60 years has been proposed.
8. What it means to us, the government will incur and additional expenditure of Rs 1.02 lakh crore to pay higher salaries and pensions recommended by the seventh Pay Commission. Of this, Rs 28,000 crore will go for salary hikes of railway employees.
9 Introduction of a health insurance scheme has been recommended. Many steps have been recommended to improve the New Pension Scheme (NPS).
10. According to the finance minister, the implementation of the Seventh Pay Commission will impact the fiscal deficit by 0.65 per cent of GDP.