Free – Financial Investment and Planning Session
Do you face these troubling questions?
– How much do I need to invest for my retirement?
– Where do I need to invest?
– How do I invest in mutual funds, and can I be sure of returns?
– My friends say that a stock trading at Rs 3 is good, it can rise to Rs 5 in a month. Can I buy?
– My daughter is 3 years old, how do I save for her future?
– I invest Rs 3000 per month in an SIP. I am on the right track?
and many more…
Book your free tickets at http://www.meraevents.com/event/investment-and-financial-planning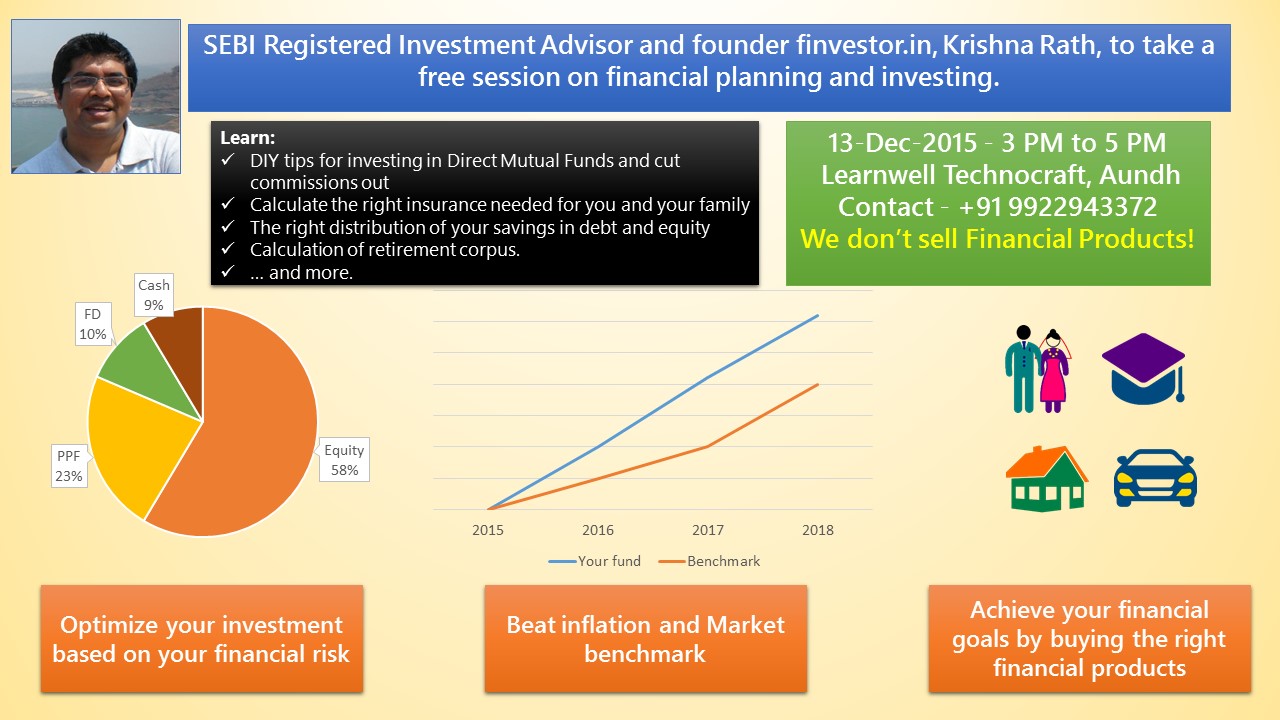 Financial investment always seems easy, but in reality it is not.
In this 2 hour session, you will learn how to save more with your existing mutual funds investment by using the "Direct" scheme, along with many other views on investing in fixed and secure returns like PPF etc. How to figure out the right amount of investment, and how to invest and not speculate. Come with your financial questions and get them answered.
Presentation by Krishna Rath, SEBI Registered Investment Advisor (there are only about 150 Individual RIAs in the entire country!). Yes, RIA (Registered Investment Advisors) are strictly monitored by SEBI, as they cannot deal in commission selling of products. Hence, only those advisors who are confident of providing unbiased and correct financial advice have taken up SEBI RIA. Krishna is also the founder of http://finvestor.in which India's hottest FinTech site to connect with a SEBI RIA. As he believes – "A strong financial future of India depends on investors making money and not commission agents and brokers."
This program is not sponsored by any company and hence you will not be told to purchase any products!