Stock Market Nifty Prediction for Week of 12 March 2018
|
A note for our last week's call: (5th March 2018):
Sell
Sell below 10300 levels, keeping a stop loss of about 75 points.
Target 100 to 150 points.
If the Market shows weakness (ie unable to cross 10600 levels), then sell at 10600 levels stop loss at 50 points and target 100 points
Buy
Buy above 10650 levels.
Target 150 to 200 points.
Result: The Sell call was triggered at 10300 levels, and the market went down 150 points. We would have got about 100 points on the Nifty futures.
Market outlook for this week: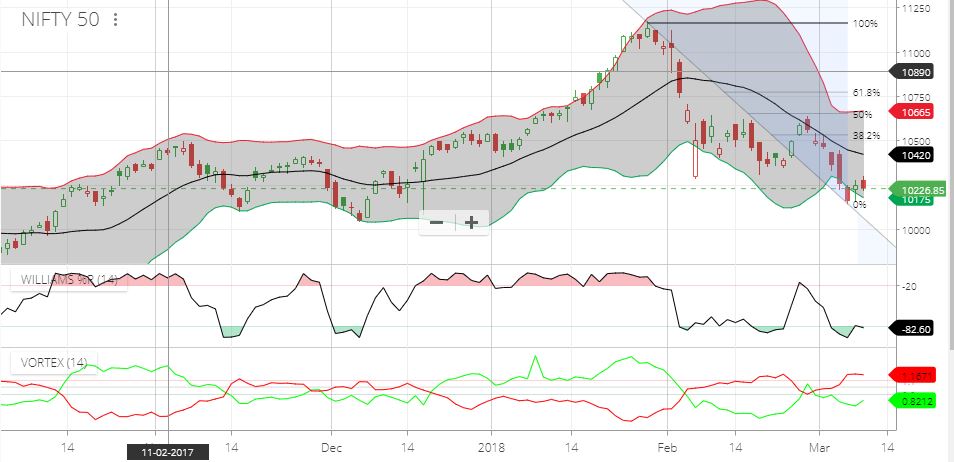 The Market has broken the 10300 levels but took some support at 10150 levels. The market trend is still negative . However, there can be short covering and some pull back in the beginning of the week. There will be pull back rallies that pull the market around the 20 day Moving average of 10400 to 10450 in this week. That would be again a time to short the market if the Nifty fails to cross the 20 day Moving average. If  the market falls further down from 10200 levels, then it's an easy short of 100 points. For buys, the rally has to be very strong and should ideally cross 10550 levels for any uptrend.
All Calls on NIFTY FUTURES using Nifty levels
Sell
Sell at around 10450 levels (around the 20 day moving average), if the market fails to cross the 20 day EMA.
Sell if Nifty goes below 10200 levels.
Target 125 to 150 points on each sell keeping a stop loss of 50 points.
Buy
Buy above 10550 levels.
Target 150 to 200 points. SL is 20 day EMA
Disclaimer: Stock Market Nifty Prediction for Week of 15 March 2018. The market view is based on Technical Analysis and should be executed only after completing a proper risk profiling. These are trading calls and hence there is no guarantee of success. All Charts are from Zerodha – one of the best places to trade in the country!. If you have not opened an account, open now https://zerodha.com?c=DK0952