F&O CALLS FOR 30TH MAY 2019
|
Nifty may continue the downward rangebound journey
Sell Nifty futures when Nifty falls below 11815 for a target of 11800 and if it further falls below 11794, then short until 11765.
Buy Nifty only if it crosses above 11910 for a 10 or 15 points target.
Key Indicators:
Global Markets – Dow Jones has fallen again and this time it is 0.87%, European markets are down 1% or more. There is global sell off.
Domestic : The last date for expiry and hence we can expect some unexpected sharp movements.
Nifty
On the daily charts, as we suggested yesterday, the Nifty has taken the downward journey. With the expiry date of 30th, we can expect the Nifty to show some violate movements in either directions. With the global sell off and the sell off in Banks, we expect that Nifty will continue its downward trend, and technically, the 9 and 14 EMAs must meet the prices.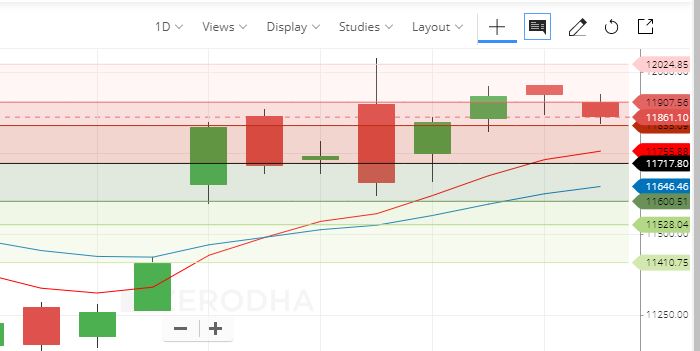 Hourly Charts
The hourly charts look and confirm the downtrend – the 9 period EMA is closing on to the 14 period EMA and this may cross below indicating further weakness. 11826 is a key point based on the Hourly Pivots. If this is breached, then combined with the daily charts, 11800 can be easily broken.
Since the prices have fallen below the 14 EMA, we can expect some movements upto the 14 EMA and then start a short too (this call is a for the extreme risktakers as prices could reverse too!)