F&O Calls for 31st May 2019
|
Nifty may continue the upward journey
Sell Nifty futures if Nifty falls below 11995 (ie below 12000) indicating a trend reversal by breaking the key price levels..
Buy Nifty futures at

9 EMA and stop loss of 5 points less than 14 EMA at 5 Minutes
if Nifty futures hits 12000 and moves up again (ie prices move up above 9 EMA).
Key Indicators:
Global Markets – Global markets are not doing well, however at the start of the Indian markets the markets are moving up.
Domestic : Upward movement of market and hence we can expect the trend to continue.
The hourly charts are showing uptrend and the opening prices have moved up. The prices can continue to move up and hence the 5 mintues 9 EMA and 14 EMA will be key for making quick trades.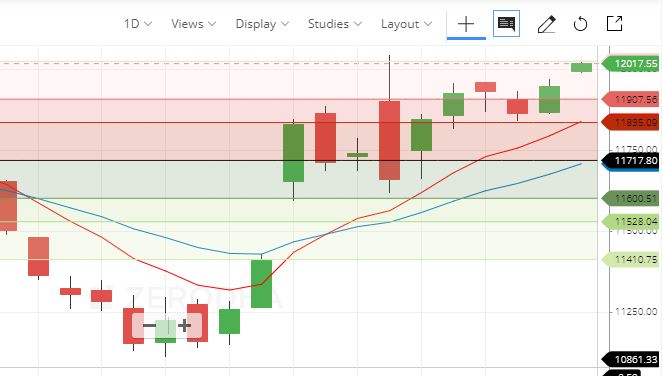 The hourly prices have chances to move upwards as seen from the charts/
Warning: Dealing with Futures and Options is considered highly risky and there is all possibility of losing the entire capital in a single day. The recommendations provided here are only for those who understand the risks of F&O. You must undergo a risk profiling before taking positions in F&O. Proper risk management – ie stop losses and money management is more important than just technical analysis.
All charts are screenshots from Zerodha, which is one of the best discount brokerage firms! Awesome tools in it.