F&O CALLS FOR 10TH JUNE 2019
|
Global markets today are showing signs of positiveness. Trade calls and war calls on economy have subdued for a few days. Nifty that had cracked on Thursday, showed some signs of revival, however it it enough?
Today's Calls
Buy:
Buy Nifty Futures if the Nifty crosses the 20 EMA on hourly charts, currently it is at 11900 levels, which itself if a number to watch out for.
Continue to buy Nifty Futures when the prices hit the 9 EMA on 15 min charts.
For quick and short trades you can use the 5 min 9 EMA too.
Sell trades
Sell if Nifty is unable to remain above 11850, ie on 5 min chart hovers around the 11850 levels. This means put a Sell stop loss order for 11847 trigger price 11846.9 with a stop loss of 11855 and target about 15 to 20 points. It is unlikely for the market to crack, and if so, will need a major trigger.
Analysis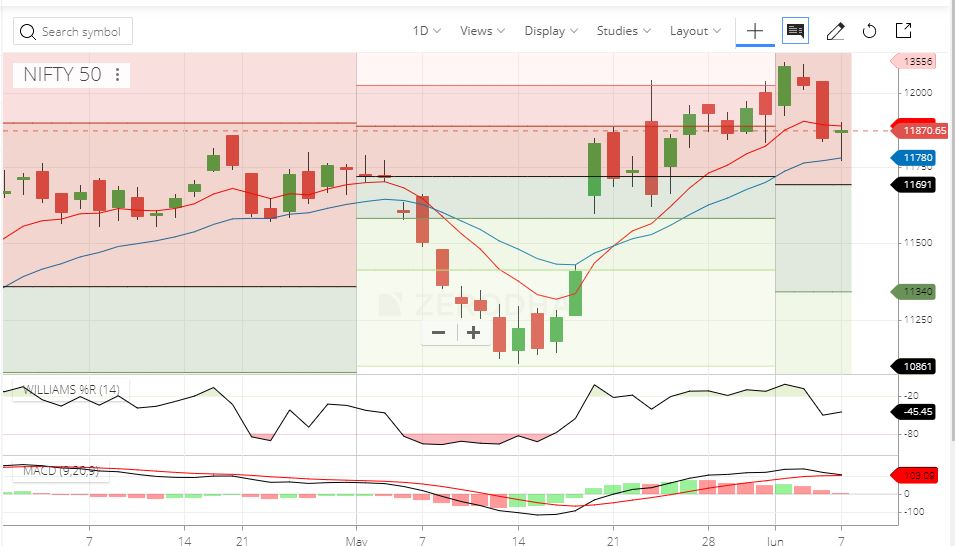 Friday shows that the bulls managed to bounce back from the 20 EMA on daily charts. This may mean that we can expect the prices to either be between the 9 EMA and 20 EMA or breakout in either zones. Looking at the global clues, the prices are expected to rise and we can see some resistance at the 9 EMA and then prices can break out upwards. Do not expect a huge rally and hence we are not making any call options now. (Retail players love non -covered calls)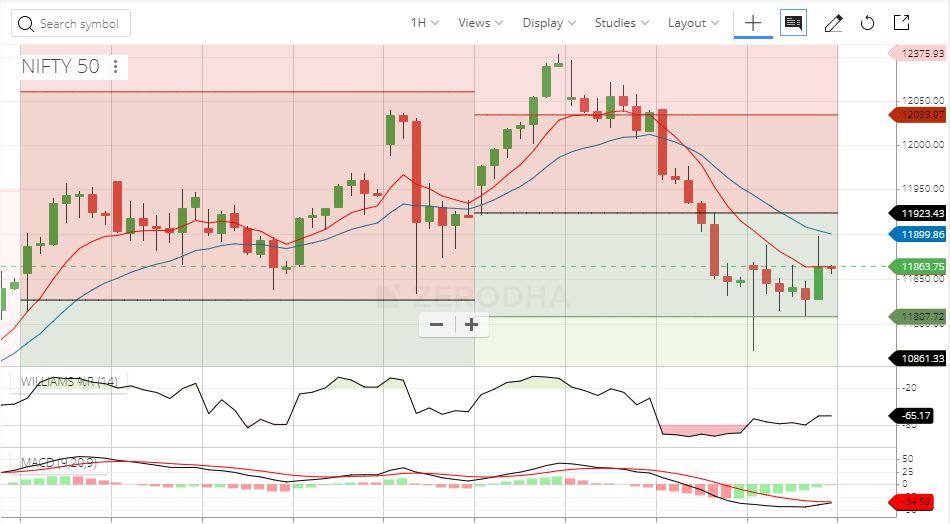 Interestingly on the MACD patterns the hourly and daily are on reverse images. This means that while on the daily chart the prices can come down (due to the run up to elections), the hourly charts can show some potential upward movements. Or in other words, prices are expected to be within a range and not move either upwards rapidly or downwards rapidaly.
Disclaimer – the author Krishna Rath, also takes trade and may take additional trade as the movement of the market indicates. We will take our calls as per own advise and please follow our twitter handle for it.
Warning: Dealing with Futures and Options is considered highly risky and there is all possibility of losing the entire capital in a single day. The recommendations provided here are only for those who understand the risks of F&O. You must undergo a risk profiling before taking positions in F&O. Proper risk management – ie stop losses and money management is more important than just technical analysis.
All charts are screenshots from Zerodha, which is one of the best discount brokerage firms! Awesome tools in it.