F&O Calls for 11th June 2019
Yesterday, the Indian markets were subdued despite the rise in Global Markets. This was due to the Bank Nifty falling down, and the IT Index supported the Nifty. Today we can expect another range bound market and until Budget we may expect to see the market bounce in a range. Nifty, as we analyse, will bounce between 11910 levels and 11950 levels (as seen from daily charts)
Buy Calls for today
If during the day, the hourly 9 EMA crosses over the 20 EMA, then prepare for long positions, and take the long positions above 11925 (pivot point).
Also, continuing with the above point, take long positions if the 15 min 9 EMA if not breached.
Follow our Twitter handle https://twitter.com/FinvestorIn for any updates on the positions
Sell calls for today
Market will break if it breaks previous day low of 11875, which acted as a strong base. So any price below this, you can expect a meltdown.
In a dull directionless market, Pivot points can prove to be useful, hence use the Resistance Points of 11965 and 11989 as price points to determine if the prices fall – ie on 5 min charts, the prices hover around the area and dont rise, then be ready be a stop loss order so that you capture the fall.
Daily charts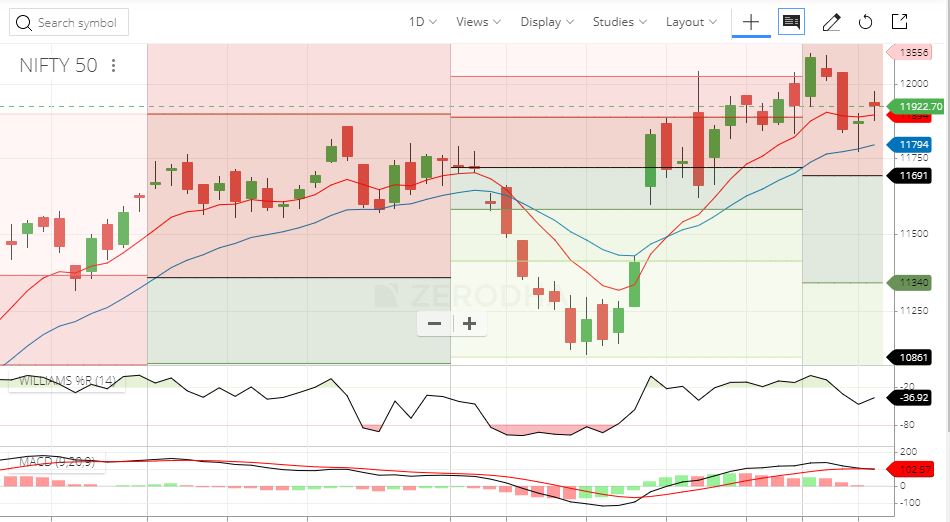 The daily charts show that both bulls and bears are fighting. The Nifty took support at 20 EMA and then again at 9 EMA, so the price may not fall down, and if does – keep your crash calls ready!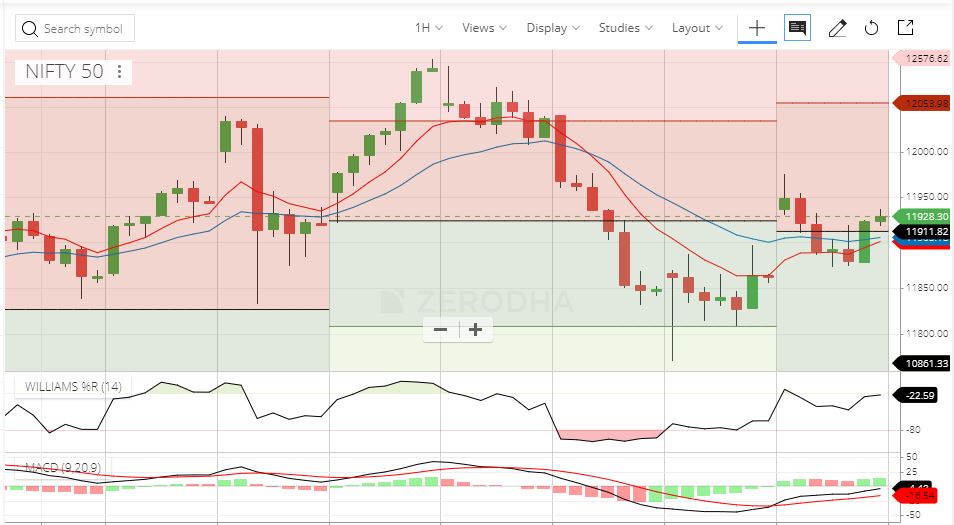 Disclaimer – the author Krishna Rath, also takes trade and may take additional trade as the movement of the market indicates. We will take our calls as per own advise and please follow our twitter handle for it.
Warning: Dealing with Futures and Options is considered highly risky and there is all possibility of losing the entire capital in a single day. The recommendations provided here are only for those who understand the risks of F&O. You must undergo a risk profiling before taking positions in F&O. Proper risk management – ie stop losses and money management is more important than just technical analysis.
All charts are screenshots from Zerodha, which is one of the best discount brokerage firms! Awesome tools in it.