F&O CALLS FOR 12TH JUNE 2019
|
With global market, Asian indexes down slightly in red, and with SGX also about 20 points down, we can expect the market to again remain rangebound. There is no clear direction for the market – no great news and no bad news. In such times, the oscillating indicators and Pivots help in intraday picks.
Buy calls for today
Buy above 11980 level and when 9 EMA is above 20 EMA
Buy when William%R is below -90%, or any other oscillator shows buy trigger on 15 min chart
Sell Calls for today
Sell below 11900 levels on Nifty
Sell when on 15 min charts, the 9 EMA crosses below 20 EMA and subsequently prices try to cross the 9 EMA
Analysis.
The daily charts as seen the image, show that in the last 3 days, it has been a small candle with lines both above and below the solid candle – showing that selling pressure on the top and bottom fishing when prices hit the 9 EMA. Today with the markets being down, we can expect the prices to again float around the 9 EMA, possibly more on the downside.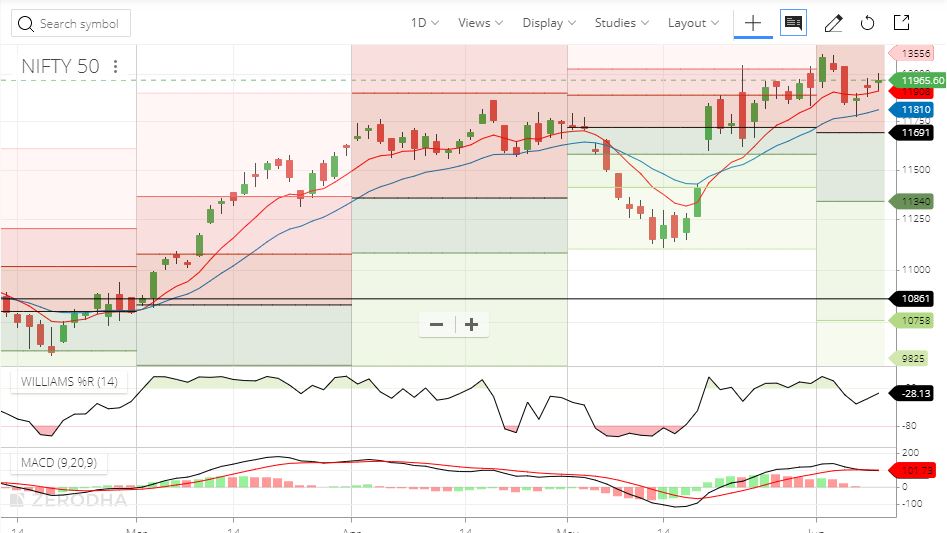 On the hourly chart, we see that the pivot of 11911 acted as a good support yesterday. Today if the 11900 levels break, then you should have your stop loss orders ready for both selling Nifty futures and also buying 13thJuly 19000 PEs ready, You will need to follow our Twitter handle to get live updates on this.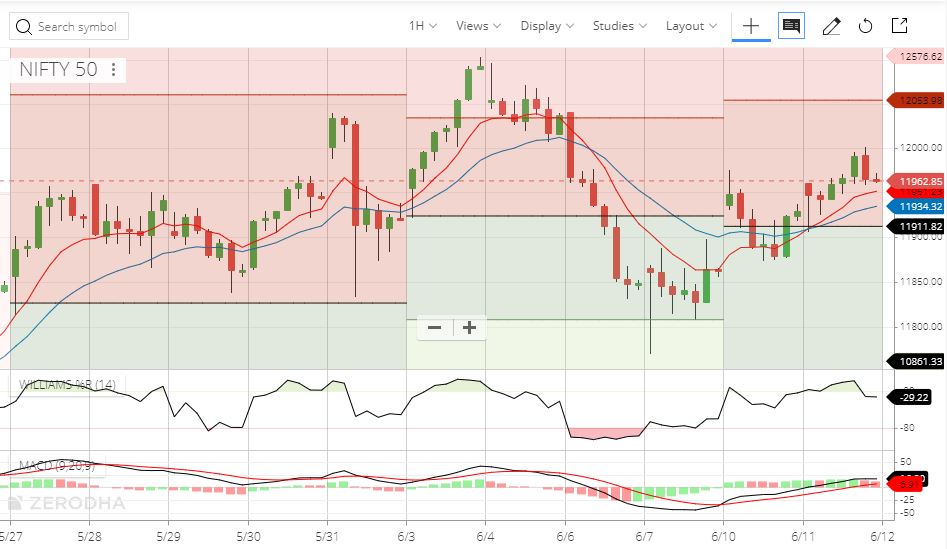 Disclaimer – the author Krishna Rath, also takes trade and may take additional trade as the movement of the market indicates. We will take our calls as per own advise and please follow our twitter handle for it.
Warning: Dealing with Futures and Options is considered highly risky and there is all possibility of losing the entire capital in a single day. The recommendations provided here are only for those who understand the risks of F&O. You must undergo a risk profiling before taking positions in F&O. Proper risk management – ie stop losses and money management is more important than just technical analysis.
All charts are screenshots from Zerodha, which is one of the best discount brokerage firms! Awesome tools in it.