What should you do in April? 3 simple things that you must have your focus on in April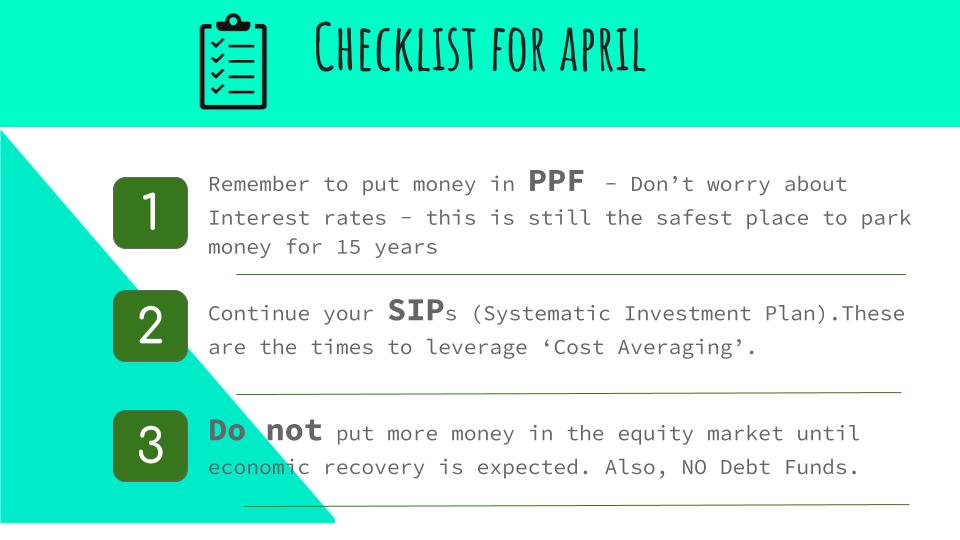 PPF: Remember to put money in PPF – Don't worry about Interest rates – this is still the safest place to park money for 15 years. The interest rates are always a function of the prevailing rates. So, you always get the best rate at that point of time. If you have already planned well, put the entire 1.5L in this month.
Continue SIPs: People who make money in mutual funds are those who invest during downtrend and hence get more units of the funds. This is the time to keep triggering your SIPs.
Do not put more money in Equity or Debt Funds, unless you have done enough due diligence: It may sound great to put more money in stocks that have fallen 50%, but my advice is NOT to do it, unless you know what you are doing. It is better for more bad news to be soaked in before you put more money.
And NO debt funds, unless you buy funds that are mainly in Government securities. Remember, when companies have poor business, they will not be able to pay the bond money back to you!