Best Interest Rates from Public Sector Banks
Introduction
With everyone becoming a financial advisor online, thanks for Quora and Facebook, the basics of financial planning is now no longer a secret! the "have 6 months of salary" as emergency fund is so common that even financial advisors advise it right away. While 6 months is a thumb rule, without a proper risk assessment and risk profiling it is impossible to determine if the backup should be for 6 months or shorter or longer.
What the "emergency fund" as well as have savings fund rule states is that have some liquid cash, which can be withdrawn immediately. So this means that the cash investment must be secure and must provide the best returns too.
In terms of safety nothing can beat the public sector banks. Be it COVID or the numerous scams that have hit banks over the last decades, public sector banks have recovered thanks to the support it has received from the banks.
Pubic sector banks also have less minimum balances to maintain and hence can be used to park cash for a short period of time, say to buy furniture etc, though, I would highly recommend using a credit card for it and paying the bills on time to get 0 interest and reward points.
Based on scrolling through the bank sites, and other comparative sites we have listed the best 5 PSU bank interest rates.
State Bank of India
Just as any puja in a Hindu home starts with Sri Ganesh, any discussion on public sector banks will need to start with State Bank of India.
From https://sbi.co.in/web/interest-rates/savings-bank-deposits

The biggest bank in India offers 2.7% pa in its saving bank for all account holders. Some PSU banks provide higher interest rates for higher account balance, however, SBI seems to on the right path. If you have money just for emergency fund or to keep in savings account, then amounts should ideally be less -around 5L to the max to ensure that the remaining amounts are invested in higher yielding instruments.
So in this article, we will focus on banks that try to beat SBI!
IDBI Bank
Reference https://www.idbibank.in/interest-rates.asp

As you can see from the screen grab on 20/9/2020, the rates are 3.1% for anything put to 25L. Above 25L, you get an additional 50 bps to 3.6%. However, I would not suggest keeping 25L in mere savings bank. This will be a sheer waste of opportunity. PSU Bonds or even FD would be better for a safer and better bet.
Punjab and Sind Bank
From https://www.psbindia.com/content/interestdom

Again the interest rate is 3.1%, for upto 20L, and beyond it it is 3.5%. So again just to get that extra 40 bps, it is not needed to be in this scheme.
Union Bank of India

From https://www.unionbankofindia.co.in/english/saving-account.aspx, the rate of interest is 3% upto 25L. There is no mention of above 25L which is good, cause they would expect you to move to a fixed deposit with them
Indian Overseas Bank
From https://www.iob.in/Savings_Bank_Deposits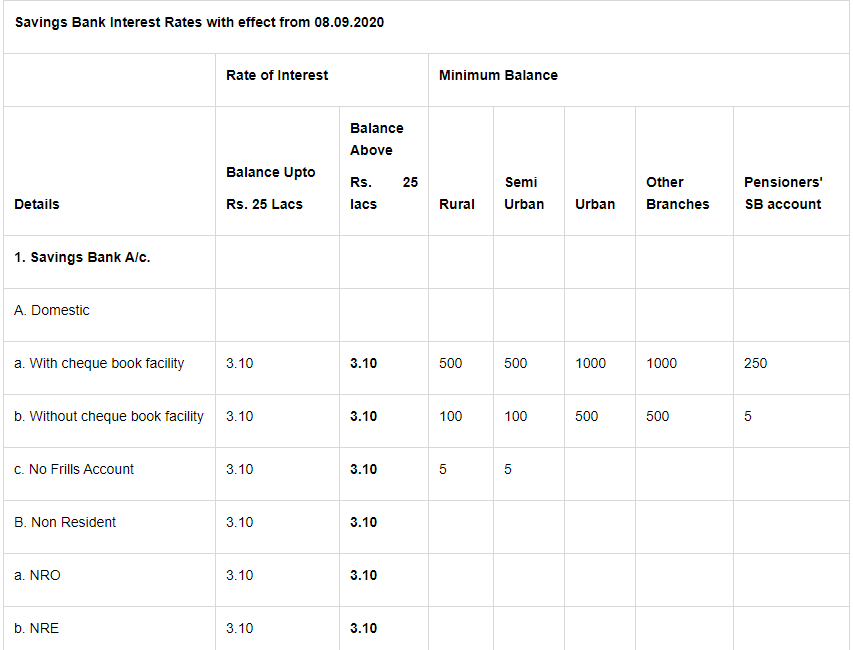 Indian Overseas Bank gives 3.1% against all deposits. It is interesting to note that even NRE and NRO get the same interest rate. Usually, there is a tendency to provide at least a 5 bps more from NRE and NRO so that you can acquire more customers, but PSU banks may have other thoughts around this.
Conclusion
After scanning through comparator websites, it appears that 3.1% is the highest that PSU can provide. So if you want, you can choose between any of the 4 banks listed here. Selection criteria for now can be the nearest branch to you place of living, reason being whatever said and done, PSU banks often need physical visits