0 % Discount and Rs 1 Crore
With the spate of discount offers and schemes that are inundating the customers in the online marketplace, finvestor.in seems to be an odd seller out. It may be against the norm – do what the market is doing, else you look like a fool. Finvestor.in does not offer any discount. There isn't a place to enter any coupons or vouchers. No, not yet, and most likely there will not be.
The reason is simple, most products that are offered online depreciate in value while finvestor.in connects an investor to a SEBI RIA, a service that would help the customer appreciate or accumulate wealth. Now, which is better a Rs 12,000 financial package or a Rs 12,000 Android Lollipop phone?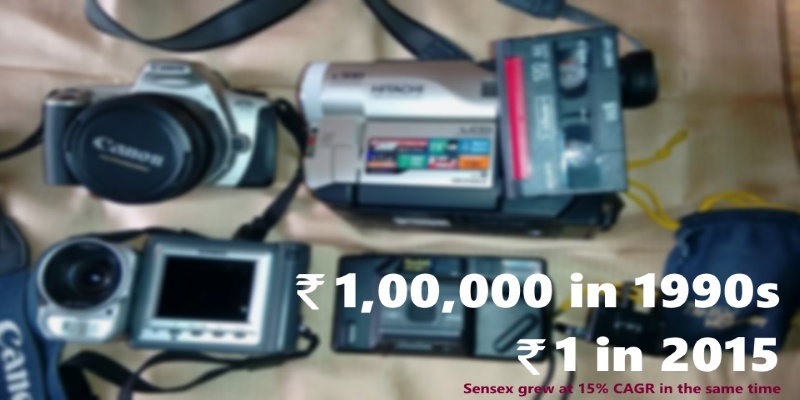 The question has to be answered in context. If the question is asked to a person who has an aging Nokia Symbian phone that does not support any new-age apps, then it is okay to buy the new smartphone. However, what if someone has a phone that supports most apps, and works well? Is it worth to buy a smartphone just because of a new megapixels more? Or a 4G LTE. My personal thought, you don't need that new smartphone.  The current dent in social status will be forgotten once you gain wealth in the long term.
Let's see what our standard package of starting at Rs 12,499/- comprehensive planning can do for an individual.
Let's take a highly simplified example -an individual who is earning Rs 80,000 a month (growing at 8% annually), has a home loan EMI of RS 35,000, Expenses of Rs 25,000, invests Rs 10,000 in FD, and makes an average loss of 5000 every month in day trading. The individual has Rs 3L in bank. He has company group life insurance and health insurance covered for his family of wife and a year old sweet baby girl. The wife does not work. As per the advice of a nagging and cunning commission agent, the individual has an ULIP that he pays Rs 1,00,000 premium and hence gets reduction in 80cc to save tax and gets a coverage of 10L coverage. The ULIP value is 70,000 after deducting commissions. Just note – we are not dealing with all the parameters out here, just making it simple.
Advertisement

Putting these in an excel sheet and assuming that from year 3, the expenses will rise due to the child's education (yuk! schools that too international school!!), we now have a chart that shows that the person will have Rs 33L at the end of the 15th year just in bank, ULIP and FD. Looks pretty, assuming loan takes 15 years to settle and without someone called an RIA, you have amassed 77 Lakhs!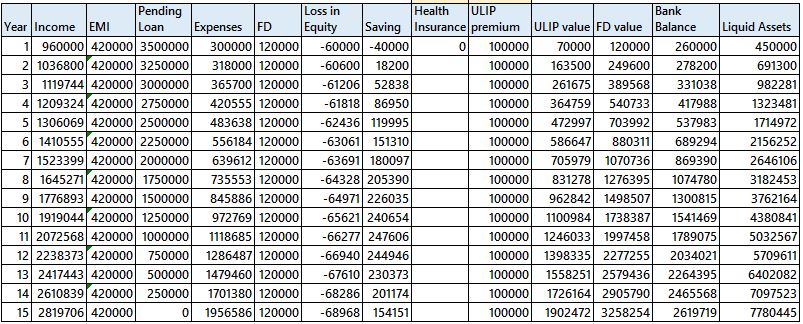 Click to view larger image – Wealth without RIA
Now let's reveal the basic changes that an RIA would do in this folio, if the RIA was contacted in Year 1. First, the RIA may suggest investing in mutual funds and getting out of FD. The amount invested in MF may also be increased a bit. Then as you see, the RIA may suggest that Year 9, the home loan can be completed paid off by using the corpus generated in the bank balance and the EMI amount can be invested in the mutual fund scheme. Assuming a return of 15% of a mutual fund, the amount saved can be significantly higher. Of course, there are plenty of other alternatives that can be done. For example, ay the year 9, once the loans are cleared off, based on property appreciation, the property can be sold and a new one with better facilities can be purchased. So many options can open up when you take a corrective step or two. Also, note that by taking personal health insurance plan and life insurance plan, the individual is protected against any adverse effect of job layoff or untimely demise. These insurance may seem to be eating away into the bank balance but are actually the only ones that will help you if something unfortunate happens.

Click to view larger image – Wealth with RIA services
The difference – easily 50L to 1 Crore, which is significant. There are some assumptions that have not be included like bank interest rate etc. but these are minor factors that would make a difference of a lakh or two or three in today's money value. We have not taken into account the effect of inflation which is important, however, this has been done deliberately not to complicate the case.
Chart comparison.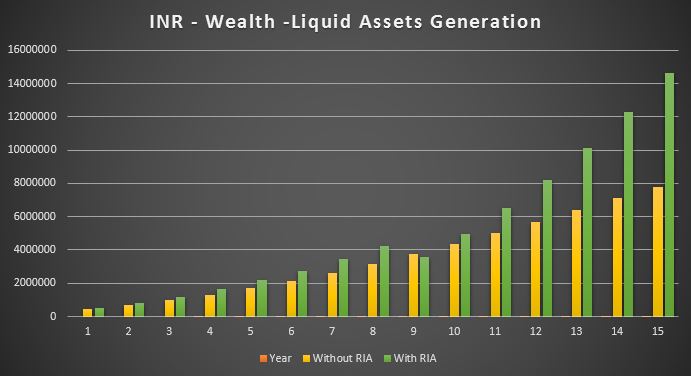 Remember, when an RIA connects to you for financial planning, the RIA will not come up with excel sheets downloaded from the internet.  RIAs listed on finvestor.in have years of experience planning the right financial plan for a variety of customers. The RIAs have their collective wisdom of several years of experience to bring the best of the advice for you.
The bottom-line is for Rs 12,499 today, you are generating a wealth of Rs 70Lakhs extra! Now, do you still need a discount or a reason to delay your financial success? And remember, at the end of the day after 15 years, you will have more options to spend the extra 70 lakhs on vacation and occasional splurge of impulse buying, but you will still land up with more than what you would done without financial consulting and charting  out your financial journey.
As for the decision of impulse purchase, it is left to the customer. The RIA will certainly advise on the right income expense ratio to be maintained.
Summary
This article shows that financial planning is not such easy a task – The examples are simplest of all and shows how much calculation is needed even when you ignore the basics like inflation, retirement corpus, child plans.
Comprehensive financial planning by SEBI RIA is a premium service that is for wealth creation and wealth generation. This should not be confused with nagging and annoying bank agents or commission based advisors who sell products for their benefit.
Financial planning involves investment advice, so do not get confused with financial plans as just being "plans", it involves recommendation and execution of plans in investment vehicles like mutual funds, equity and suggestions on tax planning, retirement plans.
The earlier you plan your finances, the better it is for long term wealth creation. Remember, most of us are not anywhere in the Government services where job and pay is secure.
A comprehensive plans starts at Rs 12499, Prices will vary based on the premium charged by the RIA listed. More the price, better the attention paid the RIA and better is the quality of service.
The Author, Krishna Rath, is the founder of  finvestor.in a place for financial investors to get their answers on what and where to invest. An avid technologist, Krishna is an MBA from IIM, ALMI from LOMA and is a SEBI Registered Investment Advisor (RIA). He was worked with several financial firms in building critical information systems and now has taken up the challenge to build systems around financial planning for investors.