The great Equity Sale is here!
|
The online market marketplaces like amazon, flipkart, snapdeal are abuzz with offers. As always, online sales are offering heavy discounts on many items, mostly you would not have purchased if you had not seen the 50% off tag. Despite having curtains purchased during the "end of season sale", a new bunch of curtains can be easily purchased and added to the home furnishing inventory.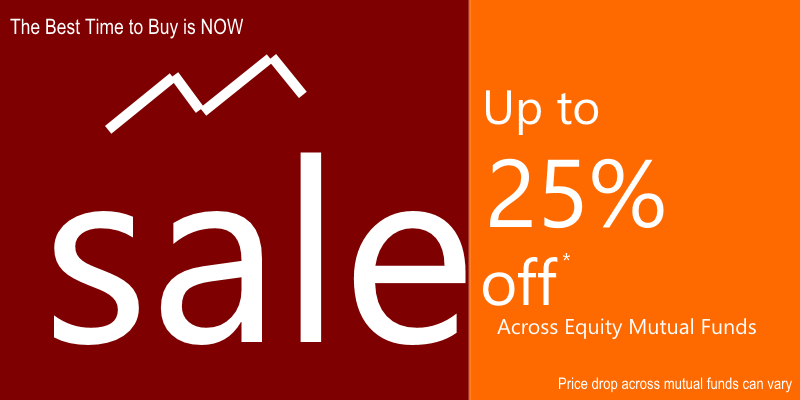 There is one more sale that is going on, and the retail investors seem to be unsure of purchasing, or rather the retail investors are scared. These are items that have to be purchased and put in the "inventory". And surprise, for most of the times, they reap good results. Yes, equities!
While investing directly in equities may appear scary and doing "stock picking" is not an easy job, the best route for retail investors is the mutual fund route. The current fall of 20% in the benchmark indices is a good time to start buying units of diversified equity funds, Largecaps or Midcaps as per your financial risk appetite. The market may fall further 5% or 10% or rise 5% to 10%, but this is the time to start accumulation.
Advertisement

Markets rise and fall, oil, gas, these are factors that will shake the equity markets, but the main input for the market is the overall economy. If the economy is not doing well, then we may be in trouble, that's when recession happens. Stock Markets does not drive recession, the economy does.
Let's take a look at the past, a decade ago, there was chaos. Yes, just google any news article from the 2003 to 2004, there was war (has there been any year without a war?), chaos, political chaos, fear of unknown.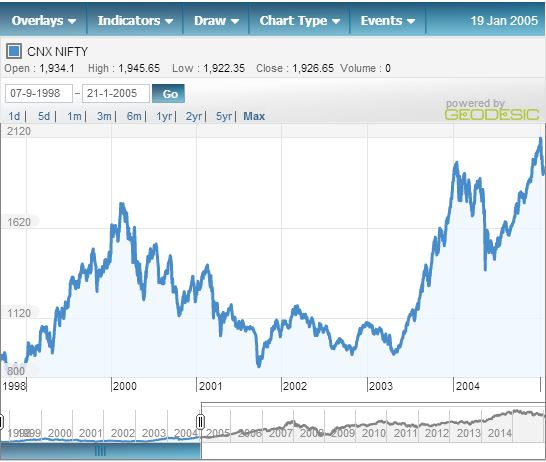 The chart above (from moneycontrol.com)shows the market movements (CNX NIFTY) from 1998 to Jan 2005. No doubt, 2000 to 2003 was a recession. The dot come bust had closed several highly valued IT companies, unemployment rose, and the worst the 9/11 attacks. Then in 2003, for the Indian markets, the budget had positive news for the equity markets and the markets rejoiced only to crash from 2000 levels to 1550 levels. So a fall of 22%. The news articles were flooded with how a double recession would trigger a global collapse. None of that happened.
This is not to say that a fall of 20% will never result in further fall in the benchmark indices. A further fall can happen, however remember that numbers are just arbitrary and as per an individual's outlook.  People look at P/E levels and all the ratios, forgetting that P/E ratios have their limitations – a forward P/E can be filled with overoptimism and a trailing one is a lagging indicator.
What is important is that wealth creation is a journey, there will be potholes, traffic and we have to navigate through all the chaos. No one predict the perfect bottom of a downtrend, but certainly can advice that this is the time to start collecting mutual fund units, especially now that Direct Mutual fund investment saves a .5% to 1% more! So instead of that cash-back offer to get that free auto-ride for 2 kms it would be prudent to start or restart mutual fund investment.
If you have any queries, please connect with a fee only SEBI Registered Investment Advisor. You can find fee only financial advisors on finvestor.in.
Photo Credit:
 "Blue fire loop" by User:Coaster J – Own work. Licensed under CC BY-SA 3.0 via Commons – https://commons.wikimedia.org/wiki/File:Blue_fire_loop.jpg#/media/File:Blue_fire_loop.jpg