F&O calls for 3rd June 2019
|
On 31st May, the market took a sudden downturn amid a global sell-off. Post market hours India lost a favourable deal with the United States. The GDP numbers weren't great either. We can expect the market to go down today, but not crash. So no naked Puts for the daring ones. It may bounce back once seeing some lower levels too.
When to buy
Buy Nifty June futures if Nifty crosses above 12025 levels for a stop loss of 12015.
(Risky Buy) – Buy June Futures if Nifty crosses 9 EMA about 11940 levels in the initial 30 minutes.
When to Sell
If Nifty does not cross 11965 levels (ie prices keep hovering there), then sell for a 10 to 15 points. This is a risky trade.
Also Sell if hourly 9 EMA crosses below hourly 20 EMA. Currently the prices are almost the same, with 9 EMA above 20 EMA.
Daily Chart review
On Friday, the daily prices finally hit the 9 day EMA and moved up, ie this may be a good news for the bulls since the market did not crash below the initial critical level of 9 EMA (or around the 8 to 12 EMA which most big houses monitor).
What came out clear was that 12025 levels is a resistance and shown during the election week too. So if in this week the market crosses 12025 then buy at around 12030 for a 20 25 point upmove.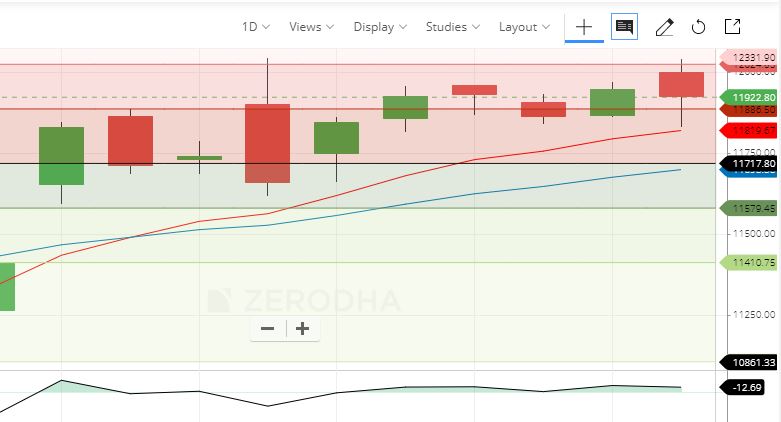 Hourly Charts for reference.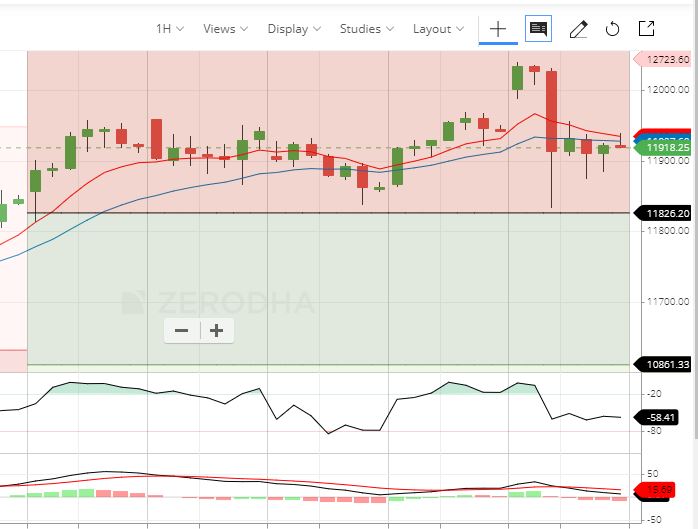 as always
Disclaimer – the author Krishna Rath, also takes trade and may take additional trade as the movement of the market indicates.
Warning: Dealing with Futures and Options is considered highly risky and there is all possibility of losing the entire capital in a single day. The recommendations provided here are only for those who understand the risks of F&O. You must undergo a risk profiling before taking positions in F&O. Proper risk management – ie stop losses and money management is more important than just technical analysis.
All charts are screenshots from Zerodha, which is one of the best discount brokerage firms! Awesome tools in it.